Kalamazoo Institute of Arts 2021 Virtual Arts Fair
THE ARTS FAIR YOU LOVE, JUST VIRTUAL THIS TIME AROUND!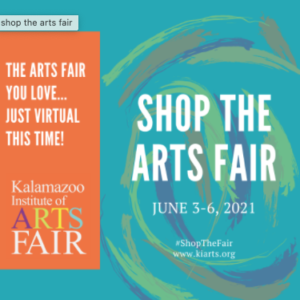 Join the KIA in celebrating our 70th Anniversary of fine arts and artists. See the artists showcase their work through the virtual show June 3-6, 2021. Connect with featured artist, B Nienhouse Designs, through the virtual gallery and bnienhousedesigns.com website.
You can start shopping on June 3 at 9am until June 6 at 9pm!
Enjoy many of the same great categories or art from
Ceramics and Glass

Jewelry Precious and Non-Precious

Fiber and Leather

Painting, Drawing, Pastels

Photography and Digital Media

2-D Mixed Media
Have a chance to chat with the artists in real-time and buy a one-of-a-kind work to enjoy for years to come.
IN ADDITION:
For those who decide to venture downtown on June 4-5, appropriately scaled events will occur during Kalamazoo's "JumpstART" summer kickoff including the Doo-Dah Parade, Art on the Mall, free admission to KIA galleries, Friday night Art Hop, and music by the Kalamazoo Symphony.